SIDE PODS
BUBBLE SIDE PODS
Berrien's "Bubble" Side Pods offer a completed look and fuller body line to our Nostalgia body. Made from the same durable fiberglass as the body, these pods are easy to mount, and can completely change the look of your car.  Sorry, we can only guarantee that our pods will fit our Nostalgia body, or an original Meyers' Manx. Available in solid or metalflake gelcoat colors.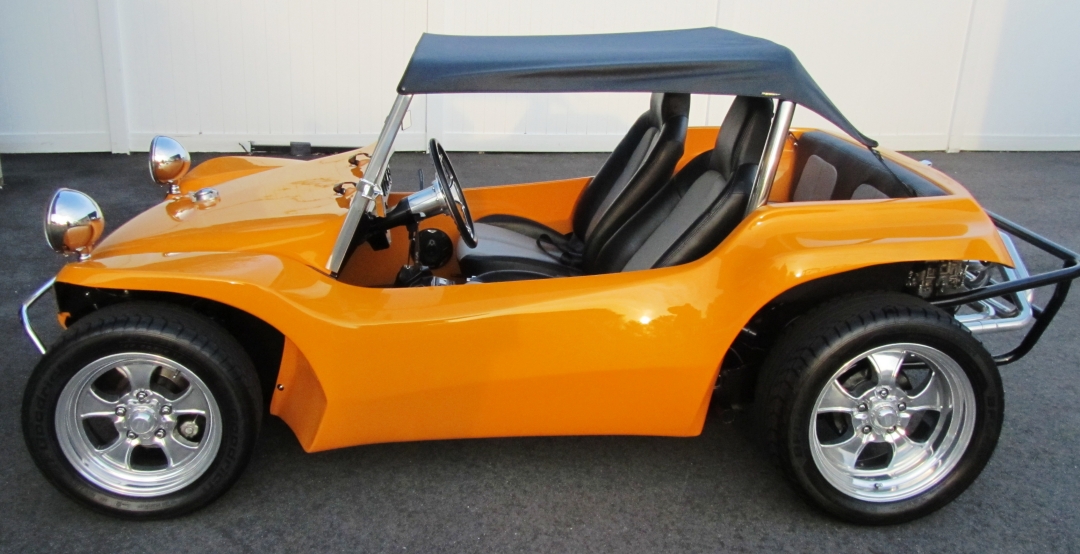 FLAT SIDE PODS
Flat side pods are the economical answer to, "My fiberglass body is from an unknown manufacturer…do you have side pods to fit it?"  YES, we do! The flat pods give a more finished look, covering up the exposed fiberglass with a beautiful gelcoat color layer.  They fit tight to the inside wall of the body and frame. And, they fit almost ANY 80″ wheelbase shortened body that was designed to fit the VW pan.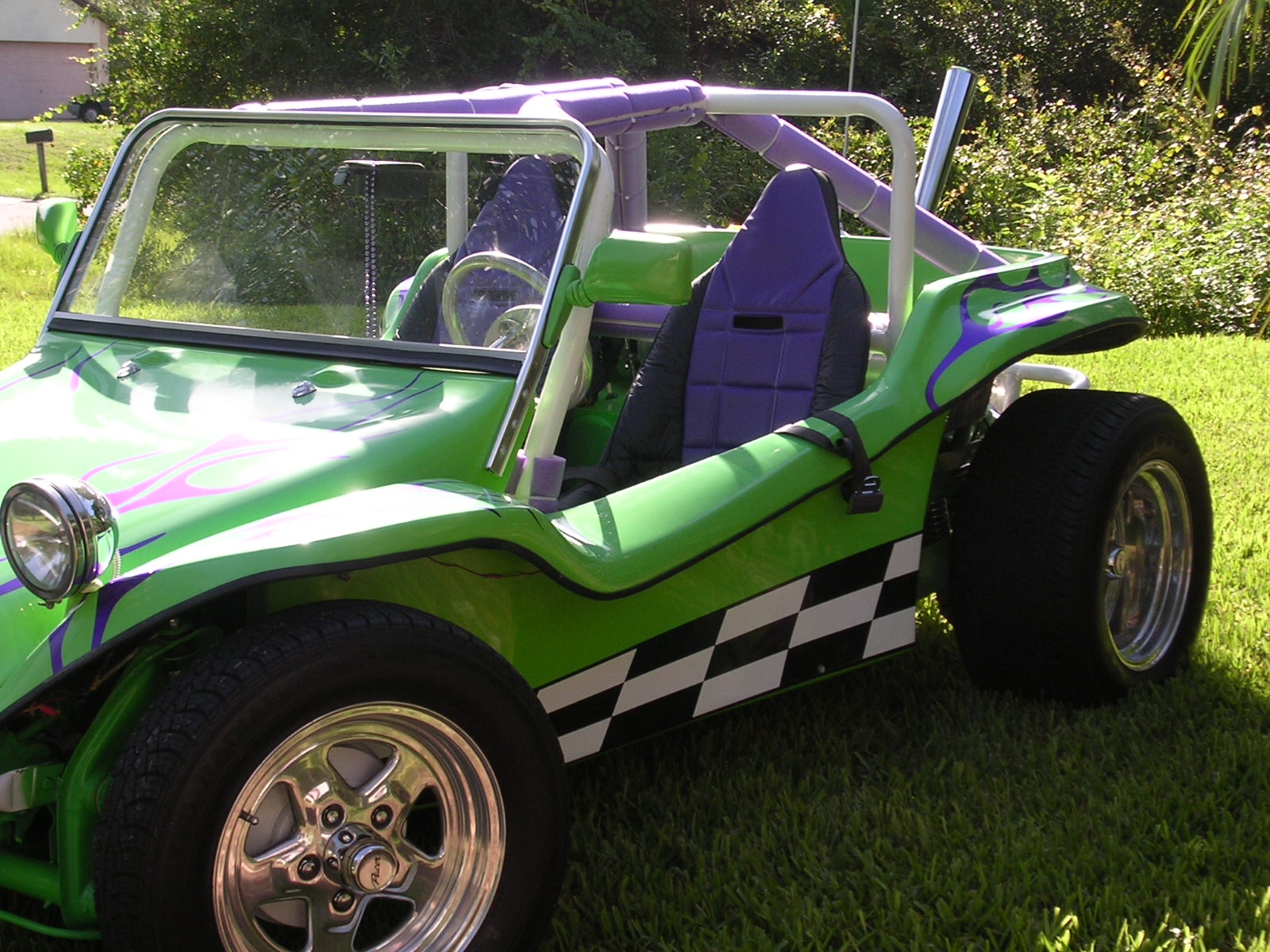 ---
---
HARD TOP
Complete that Nostalgic look with the four-passenger hardtop from Berrien. Made of durable fiberglass in your choice of standard or metalflake gelcoat colors.
OPTIONAL Oval Rear Window (C058-BB329B) and 9″ Porthole Side Windows (C058-BB329D).
Fits Nostalgia ONLY.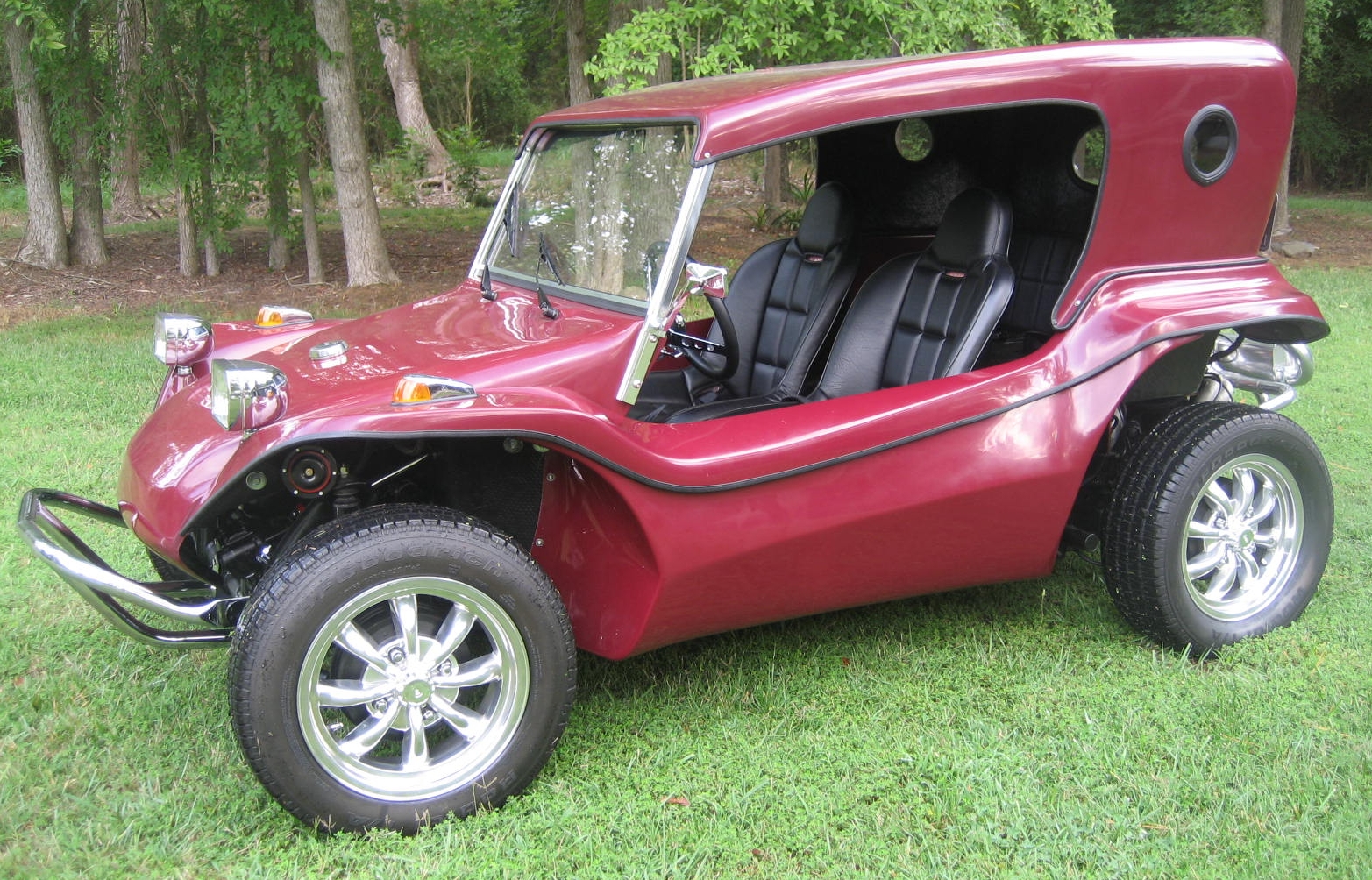 | | |
| --- | --- |
| | Pro Tip: It's a good idea to install your hardtop and windshield together. Slight changes in the angle of the windshield can cause major problems later on if you decide to add a hardtop.  If you think you might want a hardtop, don't wait! You can always store the hardtop when you feel like getting some sun! |
---
---
FULL SOFT TOP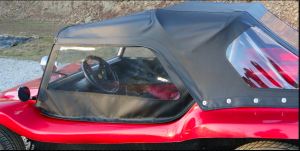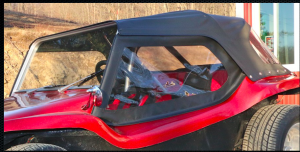 FULL TOP WILL FIT ON BERRIEN NOSTALGIA AND LANCER BODIES, PLUS MOST CLONES.  EASY ON AND EASY OFF WITH 3 WINDOWS
COMPLETE TOP FEATURES
EASY ON AND OFF
3 WINDOWS
2 SIDE CURTAINS
METAL FRAME
CLEAR OR LIGHT SMOKE WINDOW TINTS
7/8″ ALUMINUM TUBING
100% WATERPROOF
ALL HARDWARE INCLUDED
AVAILABLE IN BLACK, WHITE, TOAST
STORAGE BOOT & STORAGE BAGS
*WILL FIT ALL ORIGINAL MEYERS MANX AND BERRIEN BODIES, AND MOST KNOCK OFF BUGGY CLONES.
---
---
MINI SOFT TOPS
BASED ON ORIGINAL MEYERS MANX AND BERRIEN NOSTALGIA BODIES IT WILL FIT ALL DUNE BUGGIES WITH CHANNEL FRONT WINDSHIELD.  THERE IS NO NEED TO DRILL INTO BODY FOR ADDITIONAL HARDWARE
EASY ON AND OFF
ENJOY YOUR BUGGY WITH SHADE PROTECTION
THIS TOP IS ALSO WATERPROOF
ATTACHES TO WINDSHIELD
WRAPS AROUND ROLL BAR
NO HARDWARE NEEDED
INCLUDES STORAGE BAG
HAND MADE IN AMERICA
---
---
STEERING COLUMN SUPPORT KIT
Finally, an answer to broken fiberglass dashes! This handy kit installs in minutes, and takes the weight of the steering column off of the fiberglass dash, and relocates it to the more substantial strength in the sides of the body.  Also includes windshield reinforcement plates, to shore up the windshield mounting location, and a wiper motor bracket. 5″ of width adjustment makes this kit universal for most fiberglass buggy bodies.
---
---
WINDSHIELDS
NOSTALGIA, LANCER, & GENESIS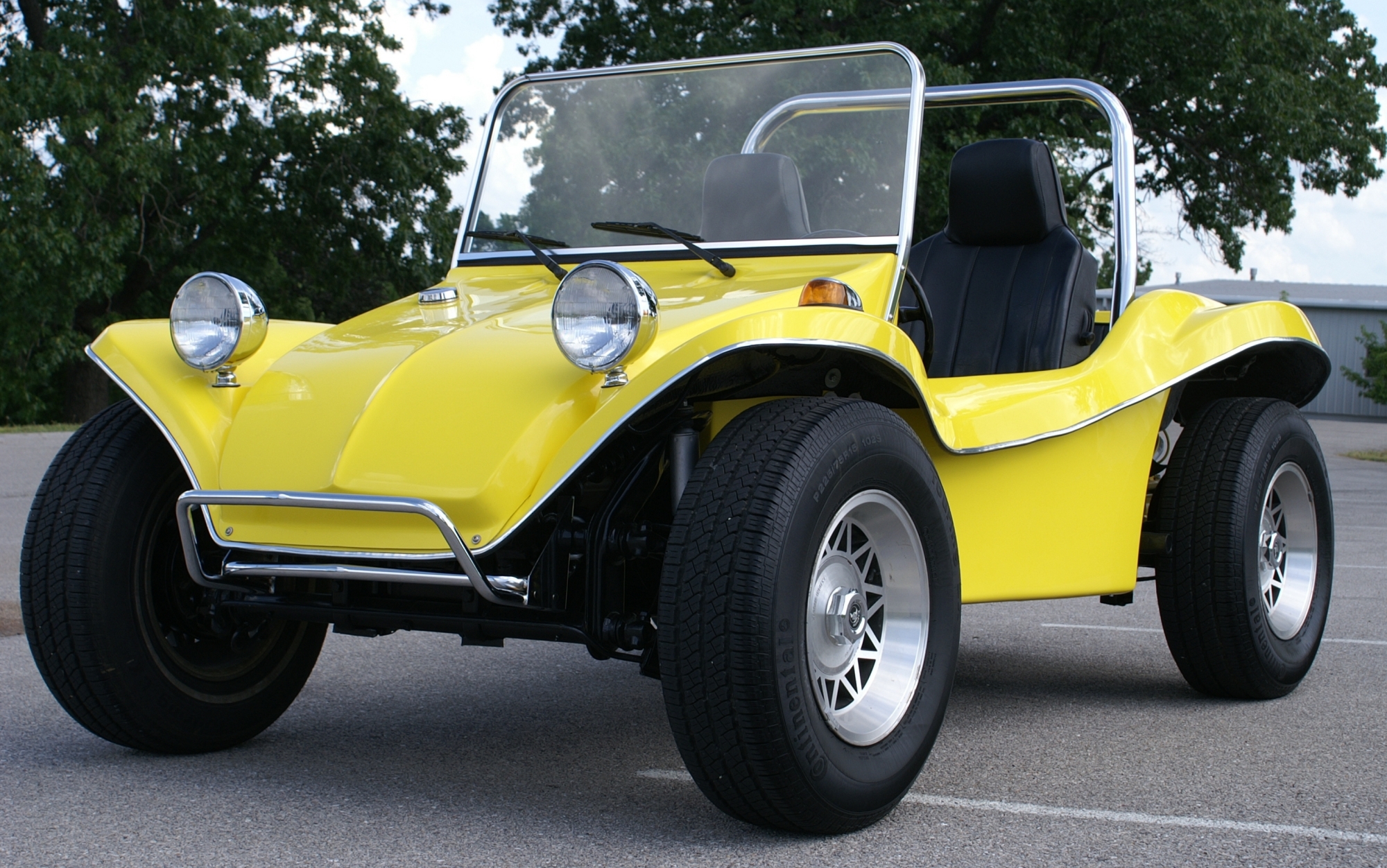 ROADSTER T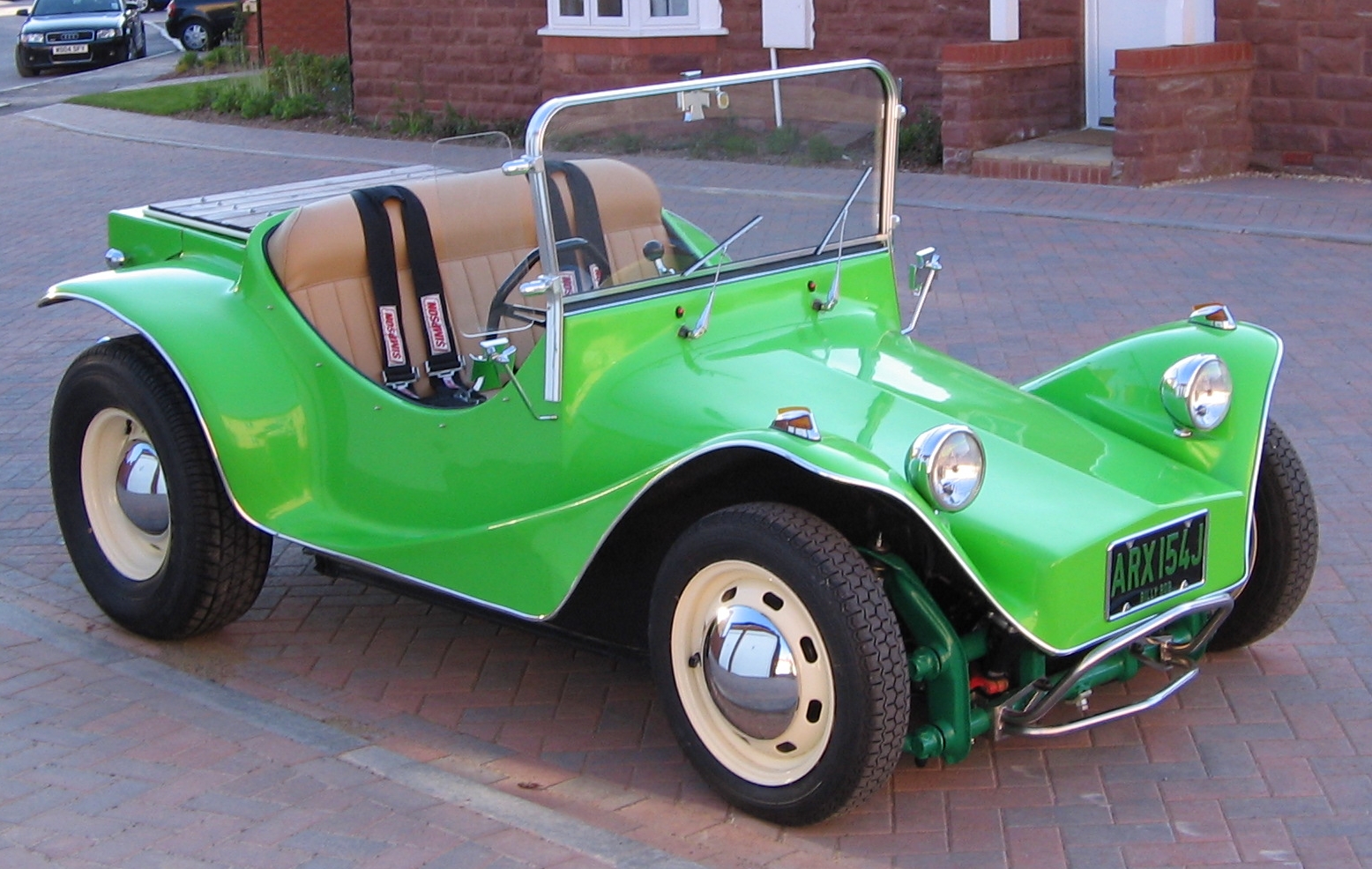 ---
---
JIFFY TRIM
Protect the edge of that body, and yourself from the possible sharp edges!
Our jiffy trim is designed to fit snugly along the edges of the body to give that clean, finished look,
and will protect your gelcoat edges from unintended chipping.  Sold per foot.
| | |
| --- | --- |
| | Pro Tip: If your body is thicker than 3/16″ at any point along the edge, you'll need to grind it down a little for the trim to fit properly. You'll also want to round off any sharp corners because jiffy trim doesn't bend well around tight radiuses. |
---
---
SHOW BAR
This 2″ OD show bar looks great and makes a convenient place to mount lights or other accessories. Frame mount version bolts to the two rear body mount holes on our Nostalgia chassis or drill your own if using a stock pan. Body mount version bolts through the sides of the body, as well as the front lower part of the rear seat.
Pro Tip:

Neither show bar is intended for rollover protection.
---
---
SHOW CAGE
Give your buggy a true "off-road" look with the 4-point show cage kit from Berrien Buggy by Acme. Made from 1 1/2″ OD tubing, it is designed to fit inside our 4 passenger hardtop.  Available as a knockdown kit or fully welded.  Fits our Nostalgia body or an original Meyers' Manx.  Please note the front hoop on this cage is NOT symmetric, but rather is designed to fit the offset which is present in the dash of the original Manx and our
Nostalgia.Please specify if your body was produced AFTER March 2014.  *Not intended for rollover protection.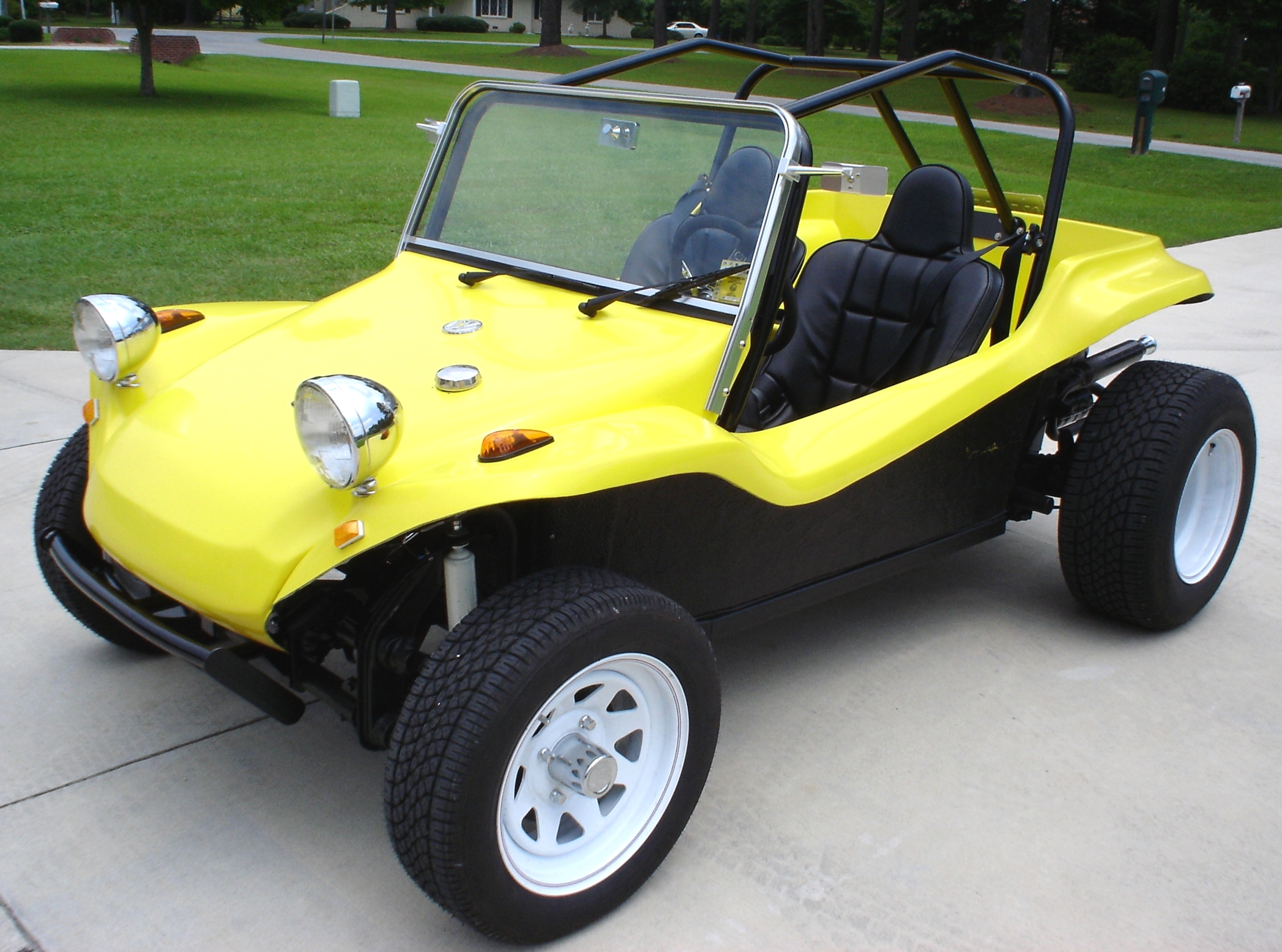 ---
---
DASH PANELS
Nostalgia, Lancer, Gensis only
Genesis only
---
---
FUEL TANK
The Nostagia, Genesis, and Lancer bodies use an early VW style gas tank, mounted in the nose of the body, under the hood. The filler neck is usually relocated to be centered in the hood.  (See fuel filler kit below).
---
---
FUEL FILLER RELOCATION KIT
Includes stainless steel fuel filler with cap, 2 1/2″ of mild steel tubing to weld to the top of the gas tank, marine-grade rubber hose, and hose clamps. Everything you need to relocate your fuel filler neck. Available in screw-on or flush-mount styles.
---
---
FRONT BUMPER OPTIONS
---
---
BERRIEN REAR BUMPER OPTIONS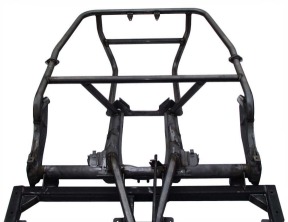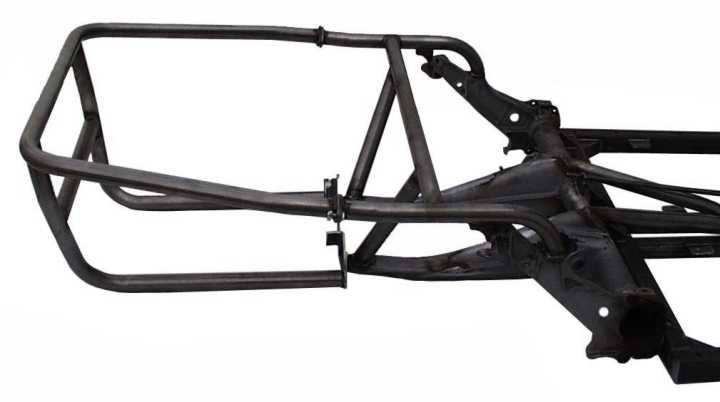 Berrien offers true engine protection and ease of access at an affordable price! The "other guys'" rear bumper kits are bolt-on, using the upper shock bolts as mounting locations for the bumper, meaning that you have to disconnect your shocks when you want to install or remove the cage.  The Nostalgia Rear Cage kit welds to the body mount location on the shock tower, and incorporates a rear jump seat support, and frame horn supports right into the kit, strengthening your entire torsion.  The bumper part of the cage bolts to flanges on top, and slides onto the included rear transmission mount, making the cage fully removable with only four bolts. The underbar crossbar gives a convenient location for a license plate or backup light. Available for your choice of dual or merged exhaust, and IRS or Swingaxle, specify when ordering.  Sold as a knockdown kit or installed when we build your chassis.
---
---
OTHER REAR BUMPER OPTIONS
---
---
3″ BODY LIFT KIT
USED WHEN MOUNTING GENESIS BODY ON STOCK VW PAN.
---
---
BELLY PAN GASKET
Creates a water-tight seal between the body and floor.
---
---
UNLESS OTHERWISE  INDICATED:
ONE OF EACH PART NUMBER IS REQUIRED PER CAR.