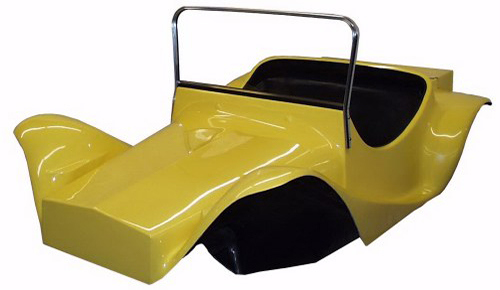 ---
What happens when a dune buggy mixes with a T Bucket, street rod?
The answer, Berrien Buggy's by Acme, ROADSTER T.
Built to mount on an 80″ wheelbase (VW shortened 14 1/2″) the ROADSTER T, uses standard dune buggy mechanicals, but gives you the look of a "street rod T bucket" look. Available in 34 beautiful gel coat colors.
The ROADSTER T can be mounted on a shortened VW pan, however, due to the rearward seating location of the "T bucket" style, the tunnel needs extra modification to move the pedal and shifter mounts rearward approximately 8 1/2″. A drawing providing the correct dimensions is provided. Better yet, purchase our ROADSTER T square tube frame. Designed like our Nostalgia frame, and built on the same jig, the ROADSTER T frame has the pedal mounts, and shifter relocated to provide the necessary changes. The fiberglass floor pan which comes standard with the frame is also correct for the ROADSTER T body. Just like the Nostalgia frame, the ROADSTER T frame is built with new steel, on our jig, and accommodates standard VW components. For more info on the ROADSTER T CHASSIS, click here.
---

---
Available In: